Kerr Family History and Genealogy
~VIRTUAL CEMETERY~
by: Joanne N. Crack -
dougbridge@hotmail.com

ST ANNE'S CEMETERY
Richmond, Quebec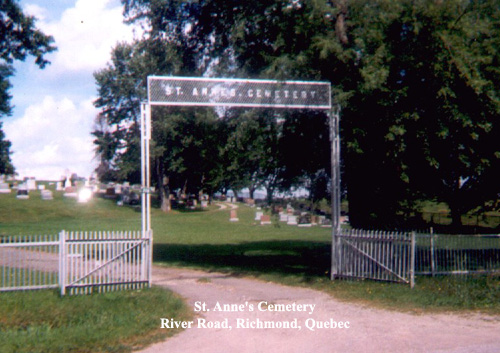 These are the folks that brought my family to Quebec, Canada

DAVID KERR was born 3 Nov 1832 in Linlithgow, Scotland to John Kerr, labourer and Magdalene Gib. David's first wife is yet unknown but he married CATHERINE DUNCAN as a widower 31 December 1860, Dunfermine-Rites, Fife County, Scotland according to U.P. Church. This marriage was witnessed by James Taylor and Joanna Kerr. David Kerr worked all his life on the rail roads. He died in 1914.

Catherine Duncan was born to John Duncan and Mary Donald on 3 June 1838 in Kirriemuir, Scotland. Catherine left home about the age of 13 and worked as a maid servant in Clackmannanshire, Scotland where she met David. Catherine died in 1914.

According to an 1861 census, Alloa, Clackmannan, Scotland David and Catherine were living at 52 Drysdale St. in Alloa and his occupation was listed as a "Platelayer".

This couple left Scotland and arrived in Quebec, Canada 21 July 1867 with 3 of their eventual 10 children.

JOHN MITCHEL KERR, son of David and Catherine Kerr was born 17 Dec 1861 in Alloa, Clackmannanshire, Scotland. John entered the service of the Grand Trunk Railway in 1873, at the age of 12 as a call boy and worked his way up to master mechanic of the Canadian National Railway. John married Clara Paterson, his first wife, in 1882. It is unknown when Clara died but it is known that she died suddenly at the home of her late father in Hodwood Hills. Her parents were Mr. & Mrs. Thomas Paterson. She left 2 infant children. There were 4 children from this union. Two died at child birth and only one survived to adulthood.

John's second marriage was to LOLA J. GARSIDE. She was born 12 April 1870 in the U.S.A. It is said that Lola's father was an american dentist who had a dental practice in Mexico. She was raised with servants and continued that life style when they came back to Canada from Mexico where John was working on the railroad at the time. They married 12 April 1899 at the Trinity Methodist Church, Mexico City and their 4 children were born in Mexico.

John Mitchel Kerr died 17 Jan 1928 after a short illness at the Jeffrey Hale Hospital, Quebec City. After the funeral service his remains were shipped by train to Richmond, Quebec for burial. Lola Garside died in 1943.

KATHERINE DUNCAN KERR, daughter of David and Catherine Kerr was born in Compton, Quebec in 1868. She died in 1926.

Katherine married THOMAS EWING DRIVER, son of Aaron Driver of England and Nancy Ewing of Ireland, in 1891.

Thomas was born 4 Feb 1856 in New London, Richmond County, Quebec and died 14 Nov 1944 at the home of his sister, Mrs. S. Chapman, Windsor Mills, Quebec.

Katherine and Thomas had 4 children.

MARY HELEN DRIVER born 1894 and died in 1912.

ROY COMFORT KERR, son of John M. Kerr and Lola Garside, was born 16 Feb 1911. He married Vera MARTIN and they had two children. Roy died 24 Sept 1986.

JOSEPH W. LAY was a brother to Jane Edna LAY, David Duncan Kerr's first wife. He was born 28 Feb 1862 in Melbourne, Quebec and died 24 June 1939 at his home in Melbourne, Quebec. His Godparents are Helen Syme and Francis Laheche.

Joseph married ADA I. ARMSTRONG, born 8 Feb 1864 and died 26 Dec 1928 in Sherbrooke, Quebec.

Their daughter, REITA M.E. LAY was born 30 March 1906 and died 8 May 1990.

Return to CEMETERY PAGE or HOME PAGE
---
web page creation, design and publishing by ME !!
copyright © 2000 Doug Bridge Studios, Prescott, Ontario (That's ME too)!
August 2000
---